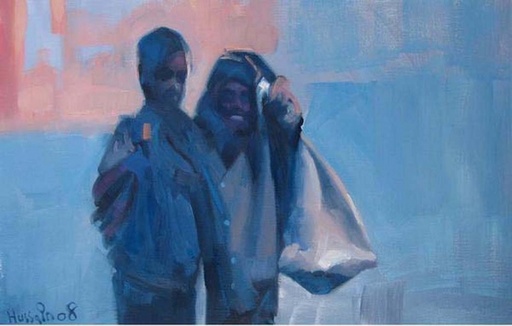 Hussain Alheidary was born in Baghdad on 8 February 1963.
From an early age he has been drawn to art.
During his study he was already doing freelance work for an Iraqi children's magazine.
After he finished his high diploma agriculture he moved out of Iraq and had several exhibitions in Iraq, Iran, Syria and Austria.
In the mean time he was working as an art teacher and Illustrator.
In 1991 he came to London were he worked for several years as a portrait painter.
He did finish his Access course in Art at the College of North-West London.
He has been an art teacher for adults and children after that in England.
In this period he had exhibitions in different galleries in London, Lewes, Hastings,Battle & Tunbridge Wells.
In 2001 he moved to Belgium, but left after one year to live in Holland.
He did have several exhibitions in Holland and sold works trough the internet galleries Artolive and Exto.
Hussain Alheidary is geboren in Bagdad op 8 februari 1963.
Vanaf jonge leeftijd is hij actief bezig met kunst.
Tijdens zijn studenten periode was hij al aan het werk als freelance illustrator. voor een Irakees kinder tijdschrift.
Nadat hij zijn diploma hoger onderwijs behaalde verliet hij Irak en had hij verschillende exposities in Irak, Iran, Syrië en Oostenrijk.
In die tijd was hij werkzaam als kunst leraar en illustrator.
In 1991 verhuisde hij naar Londen waar hij verschillende jaren als portret tekenaar en schilder werkte.
Hij behaalde een Acces course in Art in The College of North-West London.
Daarna was hij kunst leraar voor kinderen en volwassenen in Engeland.
In deze periode had hij exposities in verschillende galerijen in Londen, Lewes, Hastings, Battle & Tunbridge Wells.
In 2001 verhuisde hij naar België, maar ging na 1 jaar in Nederland wonen.
Hij heeft verschillende exposities gehad in Nederland en verkocht werk via de webgaleries Artolive en Exto.